ELKHART, Ind. (July 25, 2023) – Surf Internet℠, the City of Knox, and the Starke County Economic Development Foundation held a groundbreaking ceremony on Thursday, July 20, to celebrate the start of a construction project that will deliver fiber-optic internet to the City of Knox, Ind.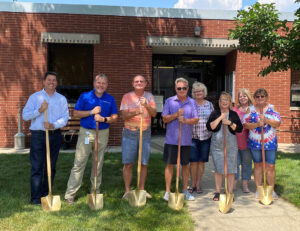 Surf is investing nearly $2 million of its own capital to bring fiber to 1,200 addresses this year, with further expansion to serve over 1,600 homes in 2024. Because of the rural nature of Starke County, Surf is leveraging grant funding to connect the fiber network to 20 rural addresses funded through the Indiana Connectivity Program, an initiative of the Indiana Office of Community & Rural Affairs. Earlier this month, Surf was awarded $79,500 in the Indiana Connectivity Program's 6th round of funding.
"For my entire career in telecommunications, Starke County has been a broadband desert. With the visionary leadership of Mayor Estok and the City Council supporting our efforts, we're changing that," said Surf CEO Gene Cruise. "Surf is the first company to step up and deploy fiber-optic broadband to Knox. We are honored to bring cutting-edge technology to homes that were once thought unreachable, providing residents with an internet service that will change their lives, their businesses, and their schools."
Construction for all phases of the project is scheduled to wrap up by summer 2024. Once complete, the fiber infrastructure will allow Surf to introduce multi-gig speeds in the future, giving residents even faster options to suit their connectivity needs.
"On behalf of the City of Knox, we are looking forward to our residents having access to high-speed, affordable internet and feel that this will be a great benefit to our community," said Knox Mayor Dennis Estok. "We are excited to see this company become a vital part of our City and we look forward to building a long-lasting community partnership with them."
The work in Knox is part of Surf's overall commitment to build an advanced fiber-optic network serving rural communities across the Great Lakes Region of Illinois, Indiana, and Michigan. Updates on construction are available on the company's website at https://construction.surfinternet.com/.
About Surf Internet
Surf Internet is an innovative fiber-optic internet company that serves as the essential gateway to connectivity across the Great Lakes region of Illinois, Indiana, and Michigan. The company is building a bridge to the wide-open future by delivering high-speed, reliable internet to homes and businesses in underserved, rural communities. Surf's 170-plus person team is local, giving them an edge when it comes to customer care and advocacy for the region. Headquartered in Elkhart, Ind., Surf also has offices in La Porte, Ind., Byron Center and Fowlerville, Mich., and Coal City and Rock Falls, Ill. Learn more at https://surfinternet.com.